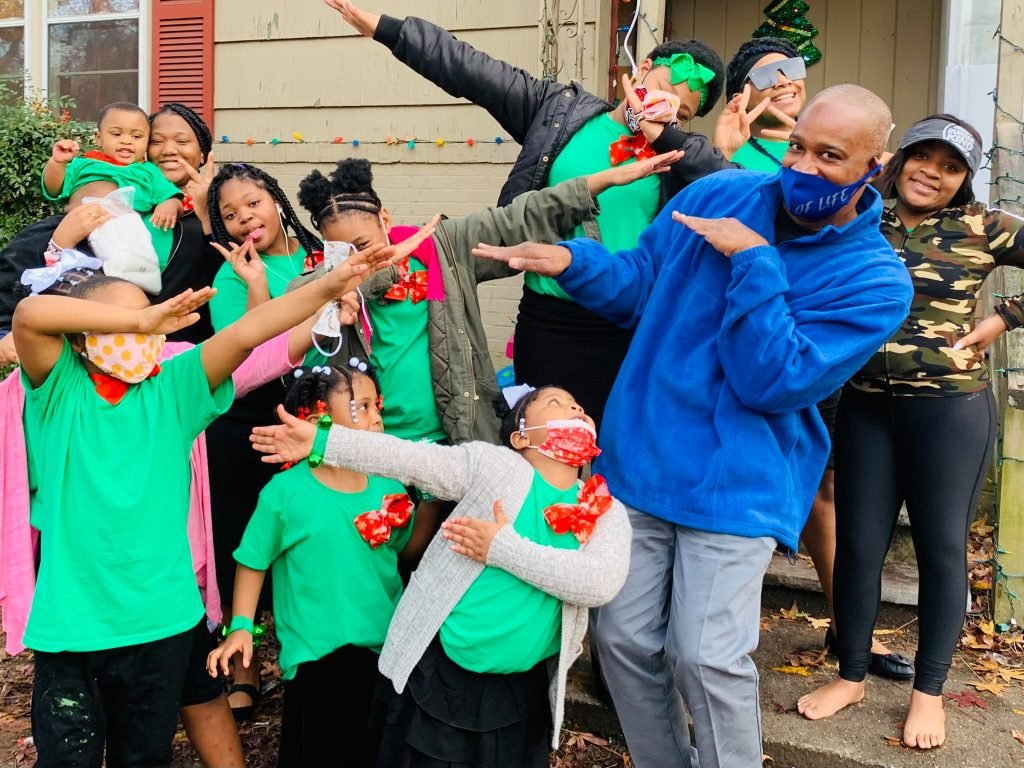 After years of independently funding acts of service, Harper founded the nonprofit Power of Life Foundation to expand the impact of his efforts. The foundation's mission is to help an underserved population to empower themselves economically and socially, enhance their health and well-being, and assist them in overcoming hardships. Those served include people living at or below the poverty level, women and children, veterans, transients and at-risk youth.
"It feels good to make other people feel good, to give children food and clothing," Harper said. "I want the community that I police in and patrol in to be okay."
Since the onset of COVID-19, Harper and the foundation have focused on helping these populations combat the virus by providing free reusable cloth face masks, assisting with COVID-19 education, and providing nutritional food to combat food insecurity. He has hosted several drive-through mask giveaways in Alabama, Florida and Georgia using the slogan "It's Cool to be Covered." Harper is dedicated to flattening the curve one mask at a time—particularly in vulnerable populations. To date, the foundation has successfully distributed more than 220,000 reusable cloth face masks and over 200,000 pounds of food across the southeast United States.
In addition to mask giveaways, Harper's foundation is devoted to assisting those in need. They have provided individuals with shoes, clothes, food and funds to pay utility bills. Recently the foundation helped the McCall family by providing masks and household goods for twelve children. The McCall kids, who range in age from 1 to 17, lost both of their parents to COVID-19 in 2020, and are now being raised by their aunt in Birmingham. The foundation also provided items for the tornado victims.
In January 2021, Harper provided coats to individuals in Birmingham's Smithfield community, and, in February, he distributed over 30,000 face masks and over 50,000 pounds of food at a free drive-through event at his alma mater, Alabama State University. His foundation provided free masks, boots and socks to homeless residents and veterans in Montgomery. He also outfitted first responders in Birmingham with free boots, including officers on his East Precinct beat.
What other characteristics has your Hero demonstrated to support this nomination?
He goes out of his way to bridge the gap between law enforcement and the public by showing concern. Harper is an alumnus of Alabama State University. He is also a member of the Fraternal Order of Police, the National Organization for Black Law Enforcement Executives and Phi Beta Sigma Fraternity. He holds a black belt in Karate, teaches self-defense classes, and provides security training to law enforcement organizations and private entities. When he's not working and serving his community, Harper pursues his other love—acting. The critically acclaimed actor recently appeared in the off-Broadway theatrical production and major motion picture Justice on Trial, portraying civil rights activist Medgar Evers.
Describe the impact of your Hero on a local, regional, national, and/or international level.
The Power of Life Foundation has a regional impact. See videos below of my hero.
Thanksgiving Mask Giveaway. Birmingham. https://youtu.be/yFX9wDyTIOI
Tallahassee FL https://youtu.be/14K6S3hAEEA
Guiding Light Church https://www.youtube.com/watch?v=0Q2h2p4uW-I&t=5s
Is there anything else about your Hero that you would like the committee to consider?
Harper has been recognized by several entities for his acts of kindness and support to the community. He received the prestigious Wettermark Keith First Responder Hero Award in November 2019, and in 2020 he received a COVID-19 HERO Award from Wilkerson Middle School, the Hometown Hero Award from 98.7 KISS FM and Mountain Dew, and the ESPN Celebration Bowl Hero of the Week Award.